Happy Monday, lovely readers! I hope you're all surviving what I'm sure for many of you has been the start of the barrage of holiday parties. I know people complain about their prevalence, but I'm totally into holiday parties. There are few things better than eggnog, and NO things (nothing?) better than Mariah Carey's "All I Want For Christmas" after a few glasses of said eggnog (though in all honesty, I'm pretty impressed when people manage more than one...that stuff is RICH).
In all seriousness, though, holiday parties have a glow and a warmth to them that gatherings at other times of year don't. People come together to celebrate brightness at the darkest time of year; it's a tried and true recipe for making it through to the solstice. Because for me, even though the days coming after December 21st are as dark as those leading up to it, just knowing that the days are getting longer makes the short ones that much more bearable. The 21st is a benchmark, a "things are looking up." (more after the jump)
So in honor of the party season, here are 10 things that have absolutely nothing to do with each other or the holidays, other than the fact that I like them. It's my blog and I'll post what I want to. Amiright?
Books and tea by the bedside:
Because sometimes a girl just wants to relax with her monogrammed mug and curl up with Anna Karenina, you know?
This "Dogs Driving" Video:
I have not been able to stop watching this since I saw it on the Today show. I was on the elliptical machine at the time and nearly fell off because I started laughing so hard. A few amused glances from fellow-gym goers and some regained footing later, I made a mental note to find it online when I got to work. I did, and sent it to far too many people (sorry, guys). And now, two days later, I'm still watching it. So thought I'd share the joy.
Adrienne Landau Rabbit Fur Vest.
I sent this link to my friend on gchat and her response was "PETER RABBIT!!!" So yes, let's get that out of the way: it's sad that it's a bunny. But it's also beautiful. And another one of my friends wore it to dinner the other night and I drooled (though I was also hungry and the pizza smell wafting from the kitchen at
Za
in Kendall Square was divine, so it could have been that...).
a) New Beat by Toro y Moi
b) Silver City by Hey Champ
I somehow stumbled across these two songs on Spotify last week and I've been dancing in my desk chair ever since. Nothing like a little modern funk to get you in the groove.
Dried mango from Whole Foods
They don't look terribly appetizing here, I'll admit it, but these things are addictive. I don't think I should buy them anymore because they're gone a day later.
These J.Crew flats: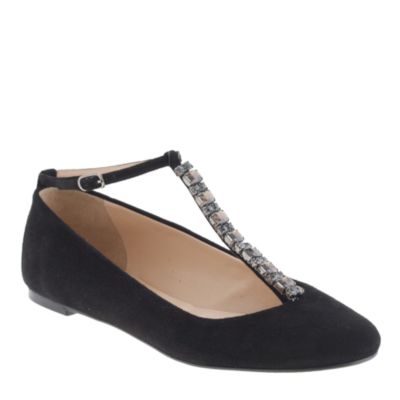 You know those holiday parties I was talking about? Yeah, these would be nice to wear to them.
This Kickstarter Project for Ugly Hanukkah Sweaters:
Carin Aigman got sick of not having any ugly hannukah sweaters to choose from when ugly sweater Christmas parties rolled around. So with her background in fashion finance, she launched Geltfiend to bring ugly sweaters to all the sad Jews who have to pin felt menorahs to their Christmas sweaters. As a half-Jew half-WASP, however, I still feel grossly under-represented. Someone needs to make a sweater of a reindeer holding a menorah and then I'll be satsified.
Because if you're going to do it, do it right.
This Tesla I spotted on my way back from a dinner last week:
As one of my Instagram followers so aptly stated, "Tesla = electric Jesus."
The "No Diggity" Pandora radio station.
I can't figure out how to make this a link so just go to
Pandora
and type in "No Diggity" as the track. Then start the radio station. Then weep as amazing '90s hip hop song after amazing '90s hip hop song comes on.
And with that, dear readers, I hope your Monday gets off to a fabulous start.
Tweet