Since I got my
Isabel Marant chambray shirt in Paris
, I haven't really taken it off. Which makes swimming and showering a bit difficult, but a girl's gotta look good at all times, am I right? I kid, I kid. But I do wear it often, especially since I'm kind of obsessed with how well it pairs with white jeans and sandals (above). Hanging it up in my closet yesterday, I started thinking that it's been a while since I've written
an ode to chambray
, that magical fabric of the colored warp and white filling yarns (according to my dear friend Merriam Webster). SO, beacuse it's my blog and I can
cry
post if I want to, I've picked out some of my favorite pieces for summer. You can never have enough Chambray (you're welcome. after the jump).
This Rag & Bone Graduate Wide Rim Fedora
looks totally rad. Though hats are tricky; you can look like a real big nerd if you're not careful. My friend and I were just talking about this yesterday, actually, and we decided that hats are all about confidence. If you think you can, you can. If you're nervous about it, it shows, and you'll look like a dweeb.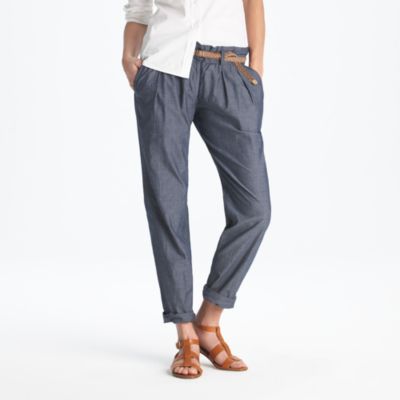 Windbloom Chambray Kercheif
via Madewell. I love
kercheifs
(we've established that)
and melted a bit when I saw this one.
Chambray Camp Shirtdress
from L.L. Bean Signature. Super breezy, easy, and well-cut. I'm sold.
Toms Desert Botas
. Because while you can never have too much chambray, you can also never have too many pairs of Toms.
Obey Meadowlark Baseball Cap
"OH MY GOODNESS" just about sums up my feelings for this one.
Perfect Chambray Shirt
from Madewell. It's not Isabel, but it's pretty damn good.
Tweet