I love putting these "10 Things I Like" together for the weekend. It means it's Friday, and it also means I get to play around on the interwebs, searching for the best/weirdest/most inspiring stuff to share with you. I'm especially excited for this weekend, because I'm going to my family's house in Maine. It's been four months since I've been up there, and after living in the pine-tree state for four and a half years, that feels like a lifetime. I always click back into place when I finally arrive, smell the salt air, and sit on our porch staring at beautiful Rockport Harbor (the view above). It feels like the piece of my soul I leave up there every time I depart fits back into my body when I return (10 Things after the jump).
I hope all you readers also have plans you're looking forward to this weekend! In the meantime, as we wait for 5 o'clock to roll around, here's the weekly 10 Things I Like. May it aid in your procrastination and help the time fly.
1. Caravan from "The Last Waltz," in memory of Levon Helm
This is my favorite song off of The Band's epic concert video
The Last Waltz.
When I
spoke with Mikael of Ramblers Bone
this week, he mentioned he and Sean were listening to it as they drove. It's always been my favorite road-tripping music, so I (per usual) got excited and have been listening to it on repeat since. And then yesterday, Levon Helm, drummer for The Band, died. It's occurrences like that, as small as they may be, that make me think something bigger is out there. In memory of Levon, this gets the first spot on my 10 Things list. May there be many drums wherever he is now.
2. These super sweet
Persol Folding Sunglasses
Because if Steve McQueen wore them, you know they're cool.
3. A pit stop in
Freeport, ME
I've yet to meet someone who, driving to or from mid-coast Maine, hasn't stopped at the Freeport outlets, wanted to stop at the outlets, or yanked the wheel from the driver's hands to ensure they stop at the outlets. There are designer duds in designer shops up the wazoo at reduced prices, L.L. Bean for days, and Ben and Jerry's. Yahtzee, as my friend Miles would say. Freeport (the actual town part, not the retail frenzy part) is beautiful, with lots of little inlets and streams, fields and barns, and an abundance of that inexplicable Maine magic.
4. Speaking of L.L. Bean, this Downeaster Sport Canvas Bag
This bag is from
L.L.Bean's signature
, the company's more contemporary, fashion-forward line. I love how the bag stays true to what L.L. Bean is known for: it's functional, good looking, and not too mucked up with fancy doodads. Great canvas and great webbing for handles. Perfect for a weekend away!
5. This old photo of Bruce Springsteen and "Thunder Road
"
Maybe it's The Boss' recent national tour, but lately I've been picking up what he's putting down. Or has already put down, in the case of this rendition of "Thunder Road" from 1973. This seems an appropriate song for a Friday--I feel like I should grab a beer and work on my car in the driveway or something. Not that I'd know what to work on; I'd just open the hood and stand there in a white tee holding a wrench.
6. Kale Chips via Foodess
I like kale. I like chips. It follows that I'd probably like kale chips. I think I'll try making these this weekend. Anyone have any kale chip advice before I take the plunge?
7. This book on A-Frames by Chad Randl
While I haven't read it, and therefore can't give a real recommendation, I think it looks kind of cool. Mostly because there's an A-Frame in
Hadley, NY
that I adore, and also because I'm a sucker for anything with a killer old illustration or photograph on it.
8. This Strawberry Muddle via Bon Appetit
Because if my logic from kale chips is sound, this should work, too. I like prosecco, I like strawberries. And this logic is probably stronger in this case than it is for the kale chips because it involves alcohol. If we soaked the kale chips in alcohol their success rate would probably be higher, too. Just saying.
8. Adidas Originals 72 Arch Tank
It's getting warmer out, and sometimes I just want to wear loose, easy, bro-like clothes on the weekends. That's probably why my sweatshorts have become a Saturday/Sunday staple.
10. This Sesame Street mug via Etsy.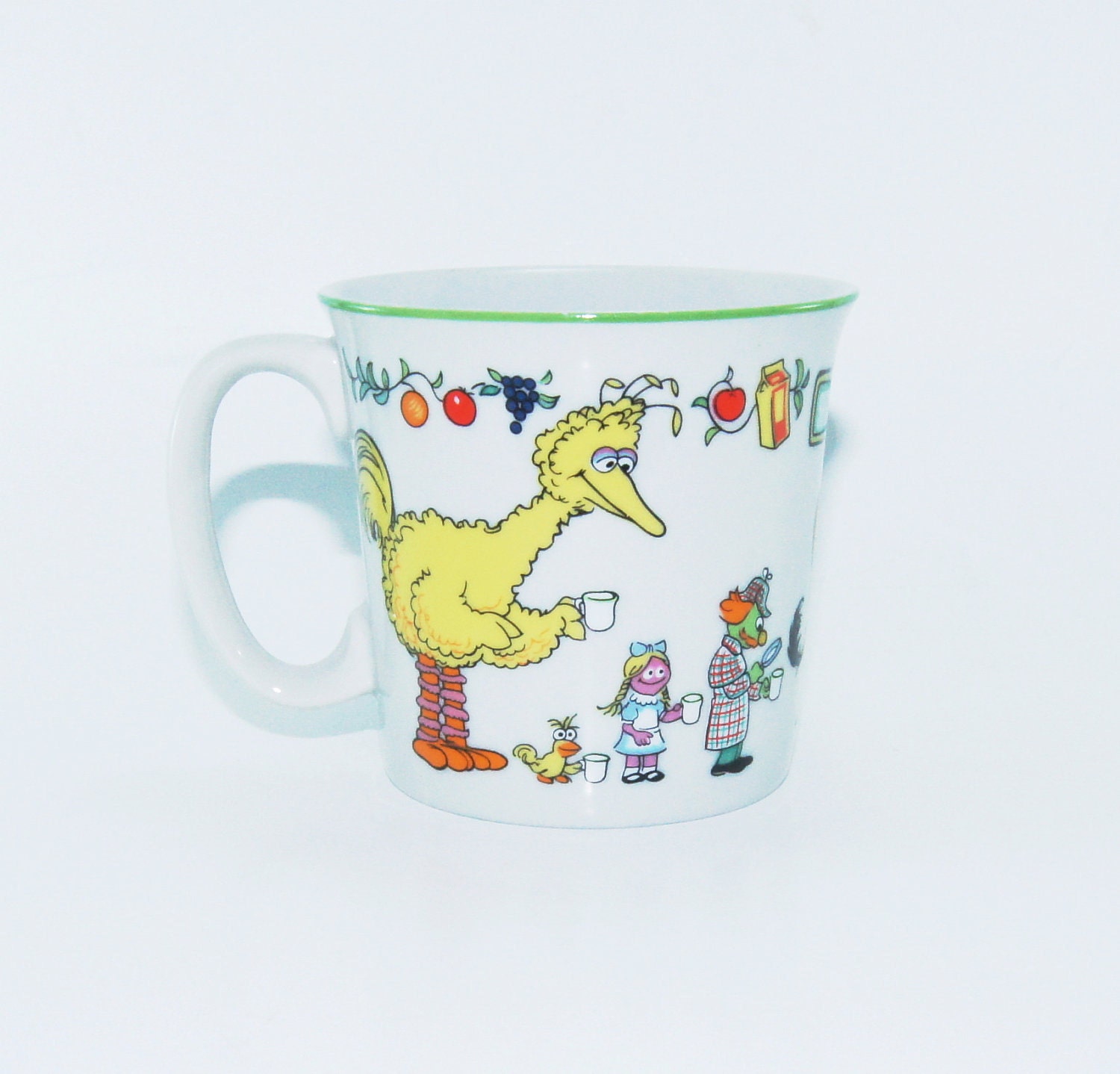 Why? No idea. I just saw it and liked it; Sesame was my street growing up, so why not let it be my mug? That reminds me of a great line from Ovid's Daphne and Apollo (thank you, six years of Latin class). Once Daphne turns into a tree and Apollo can't marry her, he says, "if you cannot be my wife, you shall certainly be my tree!" In Latin, of course.
I think that's my cue to stop writing. Happy weekend, all; may the days be long, the nights filled with joy, and the mornings easy.
Tweet