I recently got a desperate Facebook message from a friend of mine whom we'll call Craig (because that's his name). He asked me for advice about what backpack to buy that could serve as his work briefcase, explaining that he's not really "a messenger bag kind of guy," but that the Northface black backpack he carried all through college just wasn't cutting it anymore (professional opinion, advice, and remedies after the jump).
He couldn't have asked a better person, because I have a soft spot for men's backpacks and own several. So I scoured my closet and the interwebs (per usual) to come up with some solutions to Craig's dire style problem. Here are 10 options, varying in price, to land directly on the age-old intersection where form meets function.
The bag above is the
Bag N' Noun Napsac
via
Boylston Trading Co.
BTC is killing it these days; even though their website is still in beta version, their stuff is as good as it gets. The Bag N' Noun might be my favorite of the bags I found, though I have a feeling I'll be saying that about each bag...
...because the
Barbour Beacon Rucksack
happens to be one of the best bags I own. It's lightweight, durable, and looks great with a dressy or casual outfit. You'd look like the boss carrying this into work, expecially with those net pockets. Hang a fly fishing lure from it or something to really enhance your street cred (or, more likely, drive away any potential business partners).
Again, I have Eric Heins of Corter to thank for this one. He told me about Bree, a German company that's making some really cool bags these days (for ladies, too!). This
Bree Die Zeit 3
is a collaboration between Bree and the German newspaper Die Zeit to make the perfect bag for businessmen who want to carry around the newspaper. Strange thought process, considering most companies are focusing on laptop and ipod carriers, but it's a great bag nonetheless.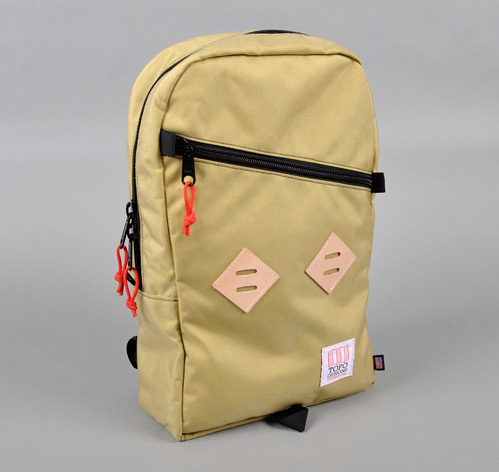 Topo Designs Daypack, Khaki,
via Hickoree's Hard Goods. This is great for a less formal office, especially one where cool design earns points. I like the khaki with the red toggles--makes for a great contrast.
Blaak Laptop Rucksack
via
Farfetch
. This is a nice size for a laptop and a few files. Why carry around something bigger than you have to? No nonsense. I'm into it.
Fjallraven Classic Kanken Backpack
via
J.Crew.
I use this as my gym bag. It was an awesome purchase--it's super durable, looks very cool, and doesn't confuse me with all sorts of fancy pockets (they can be tough, you know?).
The
J.Crew Abbingdon Rucksack
is a bigger pack, so it could also double as a good weekend bag. It's slouchy, but the leather straps make it more formal.
Yuketen Triangle Backpack
via
The Up There Store.
I just completely love this. I think it's so visually satisfying--the symmetry of the leather pockets with the grey felt it's a sweet spot for me. And I think it would look great with either a suit or nice sweater and jeans...with the suit it would say, "I have other clothes and a life outside of this suit" and with jeans it would say "this is that life."
The
The Bree Hanover 5
is another more casual bag. Nice waxed canvas and flap closure.
I'll be honest and tell you the jury is still out on this
Henrik Vibskov Noise Rucksack
via
Farfetch
. But it's kind of too funny/awesome not to include. It reminds me of the weird panchos the stoners used to wear in college, but less ugly.
Hope this helps you, Craig, and any others dying to find a new bag. I might do a messenger bag post in the near future for all you man-purse lovers. We'll just have to see.
Tweet