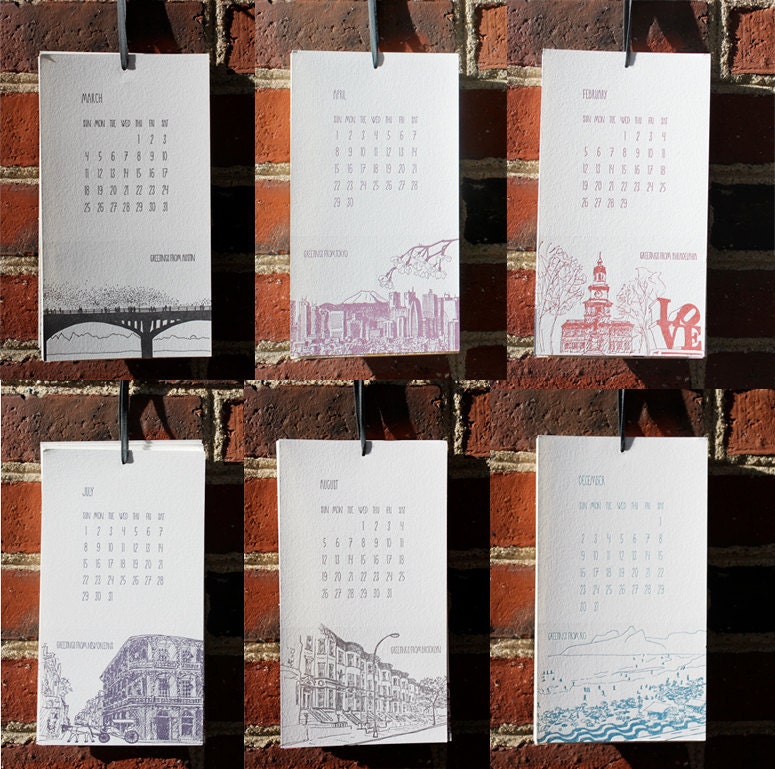 So remember those Lust Lists I used to do? Well they don't really fit the way I want the blog to run anymore, but I loved the idea of a collection of similar beautiful things. So I figured that instead of 1 BTotD everyday, sometimes I'll switch it up and do a series of 5. Here's the first installment that I think is pretty timely: 2012 Caldendars (after the jump)!
I've always loved printed calendars. They might not be the most useful things anymore, especially since Siri came to town, but I think they make lovely wall hangings and serve as visual reminders of where we are within the year. Years and seasons are visually significant--I envision a sort of spiral when I think of the year in my head, complete with different colors and graphics (am I alone on that? Does anyone else envision what the "year" span looks like in their head?) Here are five calendars, all pretty different, that I think would mighty purty on a wall or desk.
The first
, whose photos lead the post, are from the wonderful and talented Shelley Barandes at
Albertine Press
via
her Etsy shop
. I recently did
a story on her work for Boston Magazine
, and I've been hooked ever since visiting the shop. I love how each month has a different city (though Boston is sadly absent). Shelley is an architect by training, and her skilled and precise drawings will make your year go by with grace.
I love the old look of
this one
from
Field Notes
. Doesn't it look like it should be in a kitchen in Mad Men? A freebie from the grocery store in the '50s? It's also an 18 month calendar, so at this point it would last you into 2013 as well (even though you'd miss out on the 2011 pages). Practical, simple, great design, and best of all, you get to rip off a page at the end of every month.
I love this elegant
Octopus 2012 Calendar from Connor
. It's simple, it's sturdy, it would look great on a desk or by the "information drawer" in a kitchen (everyone has that miscellaneous drawer with scissors and tape and rubber bands and a weird finger puppet or cat toy, right?). I love octupi, I must say, and the gold relief of this one is beautiful. It comes with a zebra design, too, so pick your poison. Also, once you own the stand, you can buy subsequent refill pages for each year.
I see the moon and the moon sees me.
What a great idea
from
Moma's Design Store
. I like to know when the moon will be full and when we won't have one at all, and with this, I would! I also like the visuals--the black is nice, and the font simple. The moon is the main attraction.
This calendar comes from Alison Langley, one of the best international nautical photographers in the world and my old boss! I interned for Alison a few summers ago and it was fantastic--I got to drive her motor boat super close to boats like the one above while she shot video footage. I also took stills for her. It was my heaven: boats, photography, and the Atlantic Ocean. The pages of this calendar are filled with images like the one above and will delight even the most seasoned sea-dog.
Tweet